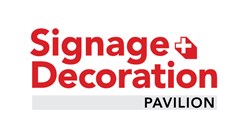 Trevose, PA (PRWEB) December 18, 2013
The ASI Show and ST Media Group International this day announced they have entered into an agreement to cooperate on the launch of a new Signage + Decoration Pavilion at ASIs Chicago trade show July 15-17, 2014 at McCormick Place.
The Signage + Decoration Pavilion will feature equipment, consumables, software and supplies related to sign manufacturing, promotional-products decoration, apparel decoration, and wide-format digital printing of graphics. In addition, visitors can also take advantage of special education workshops devoted to expanding or entering new businesses as well as interactive demonstrations on a variety of decorating processes.
The ASI Show Chicago is the largest ad specialty event of the summer, typically attracting more than 4,000 distributors from almost 2,000 firms. The 2014 Chicago show will feature a keynote by internationally recognized graffiti artist, author and entrepreneur Erik Wahl, as well as a half-day education program by renowned leadership expert Stephen Covey.
The ASI Show hosts trade shows in five cities per year (Orlando, Dallas, Long Beach, New York and Chicago), annually attracting 20,000 attendees and the most distributors of any industry event. Each show provides a complete trade show experience, featuring a full education conference, networking opportunities and a manageable one-floor/one-hall layout.
ST Media Group International, Inc., of Cincinnati, OH serves the visual communications industries with trade publications, branded websites, a custom book division and industry events. Its trade publications reach more than 200,000 readers worldwide in the signage, graphics, retail, package-design and hospitality industries.
ASI is delighted to launch a brand new pavilion with ST Media, a family-owned company with vast experience managing customer and supplier relationships, stated Timothy M. Andrews, president of The ASI Show and president and chief executive officer of ASI.The new pavilion is a great way to wage a one-stop destination for entrepreneurs interested in expanding their existing business or branching out into new business opportunities provided by adjacent markets. I encourage everyone attending the Chicago show to stop by.
ST is excited to be partnering with ASI to bring this new pavilion to life, stated Tedd Swormstedt, president, ST Media Group International. ASIs fifty-plus year history in the advertising specialty market and STs 100-plus years serving the signage, decoration and graphics markets make for a very powerful combination. We see tremendous synergies between our core markets and a great opportunity to help professionals in both of our audiences discover new opportunities and possibilities.
Official media sponsors of the new pavilion will be ST Medias The Huge Picture and Screen Printing magazines and its flagship publication, Signs of the Times, along with ASIs Wearables and Stitches magazines.
ST Media will invite pre-qualified industry professionals to visit the pavilion and attend The ASI Show. Most prospective attendees are successful business owners or operators in the screen printing, sign and wide-format printing who are either already offering promotional products or who are interested in adding them to their existing lines.
For exhibit income and ST Media Group advertising contact Murray Kasmenn, Senior VP of Sales/Group Publisher at murray(dot)kasmenn(at)stmediagroup(dot)com. ASI members interested in buying advertising or sponsorships for the new pavilion can contact Karenic DiTomasso, ASIs vice president of income for The ASI Show at kditomasso(at)asicentral(dot)com.
About The ASI Show

The ASI Show was created for active ASI member distributors and suppliers, and attracts more distributors than any other industry show with 20,000 attendees. Offering a full education conference, networking opportunities and a manageable one-floor/one-hall layout, The ASI Show provides a complete trade show experience. In five host cities per year (Orlando, Dallas, Long Beach, New York and Chicago), The ASI Show is saint for advertising specialty businesses searching for new ideas and new business. Additionally, The ASI Show runs the Advantages Roadshow, the ad specialty industrys most favourite traveling show, and fASIlitate, ASIs hosted buyer event.
About ASI

The Advertising Specialty Institute (ASI) is the largest media, marketing and education organization serving the promotional products industry, with a network of over 25,000 distributors and suppliers throughout North America. ASI leads the industry in technology solutions, providing cloud-based e-commerce, enterprise resource planning software (ERP) and customer relationship management software (CRM). ESP Web